Our services in the field of injection technology
Quality is no coincidence — it is always the result of strenuous thinking.
And we, at ECKERLE in Beilngries, have been workign meticulously with ever better processes for the manufacture of injection molded parts since our foundation in 1992 in order to be able to manufacture the most modern and best products for you.
Our specialty is the injection molding of raw parts for complete chrome components and A-visible parts. PMMA, foil back injection molding and 2K injection molding are among our standards. True to the principle of "highest quality, even where you can't see it", we, of course, also dedicate ourselves to the production of other parts in a wide range of industries. You can find an extract description of our services in the automotive and electrical industry on the product page.
We can offer you the following services: development, rheological investigations (mold flow), prototype construction, samples of injection molds, injection of pre-series and series, injection molding using the multi-component process, mold in color, insert molding, internal gas pressure, inmould decoration (IMD) and inmould Labeling (IML), assembly of modules, 3D measurement of injection molded parts as well as quality and function control.
We keep our promise for high quality. This is ensured by our regularly trained, over 130 man-strong staff who work here in three shift operations. We therefore dedicate ourselves to manufacturing your product 24/7! This is how we can meet your time frame in any case. Our high degree of flexibility, our infrastructure, which has grown sensibly and sustainably over the years, as well as coordination, are also a plus over our competitors.
This also applies to our technical resources: The in-house state-of-the-art machinery fleet in Beilngries with 19 injection molding machines enables the injection of products with a locking force of 35 to 1,600 tons. We also have cooling and drying systems that ensure a very high quality of the manufactured parts and thus meet every requirement of our customers. We are also for complete solutions!
By using our 3D measuring machine, we also provide you with a measurement report and we also carry out quality assurance and quality control of your component in-house. The assembly of components, which we carry out using the latest technology, completes your all-round carefree package. Consistent controls ensure that only 1A goods are delivered to the end user.
Our ultimate goal is your satisfaction while at the same time being carefree. For this reason, we are always available to help you with any questions you may have. In this case, please contact us, take a look at our image film or just stop by ECKERLE directly!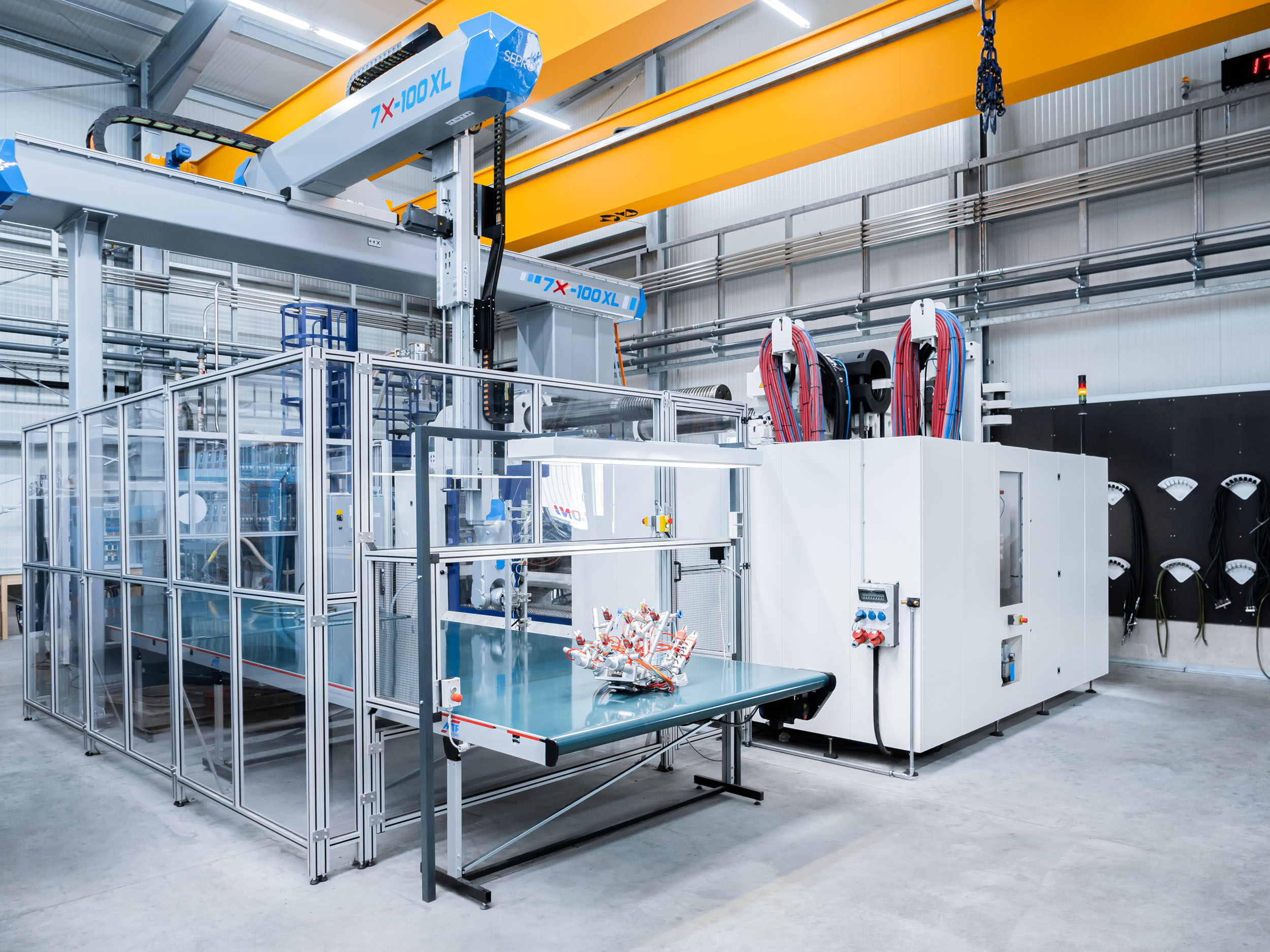 Our fleet, consisting of 19 efficient machines, allows the production of parts with a locking force of 35 to 1,600 tons. So many things are possible and there are hardly any limits to your creativity.
Would you like to get an overview of the machinery in our machinery fleet in the field of injection molding?